Summers Place Auctions is delighted to be offering a small selection of sculptures by Misti, who famously won Channel 4's Handmade: Britain's Best Woodworker reality TV show in 2021.

A group of 24 sculptures will be sold online among them the sculpture, I Weep for Nature, proceeds of which will go to charity. The timed auction will be held from the 23rd September to the 3rd October 2022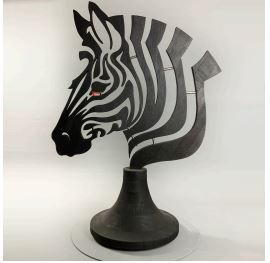 Burnt Oak, stained Lime wood and Stainless Steel 2020
100cm H x 73cm W x 40cm D

This lot will be sold in aid of the charity Stump Up For Trees
The selection of sculptures include I Weep for Nature, created from burnt oak, stained lime wood and stainless steel to create a Zebra sculpture. Misti made this for the sculpture challenge on Handmade: Britain's Best Woodworker, a reality television competition screened on Channel 4 in 2021. The brief was to produce a one metre tall sculpture of an animal in just two days, and this piece was awarded first place by the judges, and contributed to Misti's overall win in the competition. She created this sculpture as a comment on man's devastating effect on nature and it is therefore fitting that 100% of the proceeds of the sale of it will support a charity planting 1,000,000 trees in the Brecon Beacons (stumpupfortrees.org), close to where the Channel 4 show was filmed. It is estimated at £2,000 - £3,000 and estimates for Misti's sculptures range from £500 to £20,000.
Image courtesy of Gareth Fuller/PA and The Daily Telegraph 2 Sept 2022
Click here to ready more about Misti

This is a Timed Online auction
Running from 23rd September - 3rd October 
Viewing by appointment